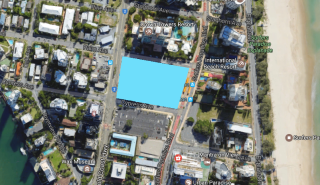 Consortium completes Surfers Paradise Acquisition
A consortium comprising Aquis Australia, CCCC International Holding Limited (CCCI) and Tandellan Group has today completed the acquisition of a prime development site in central Surfers Paradise.
The 10,500 sqm site comprises an entire block bordered by the Gold Coast Highway, Palm Avenue, Cypress Avenue and Surfers Paradise Boulevard.
The site was acquired for approximately $40 million.
Aquis Australia is a company wholly-owned by Hong Kong investor Tony Fung. Mr Fung also controls the ASX-listed Aquis Entertainment that owns and operates Casino Canberra and is currently progressing plans a for a large-scale real estate and entertainment project at Yorkeys Knob, north of Cairns.
The site is adjacent to the International Beach Resort on the Esplanade that Mr Fung contracted to acquire in his own right last year.
CCCI is one of the largest listed companies in Hong Kong and has significant interests in Australia. Last year it acquired construction group John Holland.
Tandellan Group is a Shanghai-based property group with a 20-year history of large-scale developments in China. This is the first time the company has invested in Australia.
Mr Fung said the partners were considering a range of development options for the site.
"It is the last, large-scale undeveloped site in Surfers Paradise and presents a tremendous opportunity to create something special that will compete for attention on the world stage," he said.
"The Gold Coast is experiencing a period of rapid growth that we expect will continue for a number of years due to its mature tourism and hospitality industry and stunning natural beauty."